Portable wireless optical CMMmeasurement solutions
Wireless tracking laser scanningsystem Freescan Trak
Thundershooter holding scanning system without posting

Optical trackers track thespatial position of the located scan head in real time.Without dots whenscanning, operators save a lot of time, and the process of scanning large andmedium-sized samples makes it easy to get 3D data with metering levelaccuracy.It is suitable for all kinds of static and dynamic application suing,including aerospace, automotive, shipbuilding, energy and other industries, thedemand for large scene 3D detection.
Scanner
Stand-alone modeof workWireless solutionsLightweight
Stand-alone mode of work
The scanner has built-in LED light source,
Scanning as a stand-alone wireless handheld scanner           

Wireless solutions
The scanner does not need to be connected to a calculator or optical tracker via a data cable.
Fast wireless measurement system with AirMaster ™

Lightweight
Weighs only 1.2kg and iseasy to operate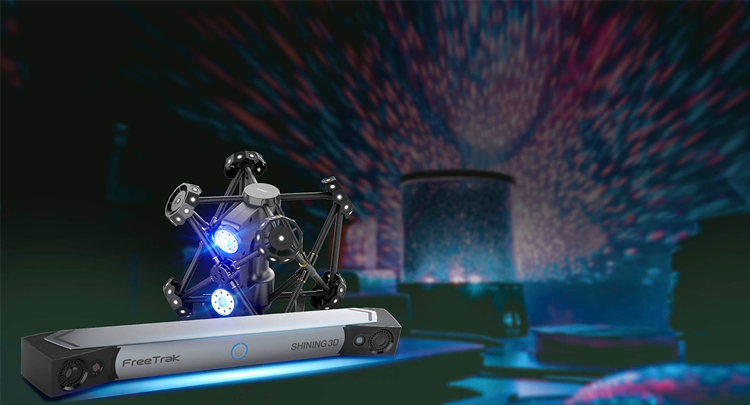 ✦ Metering levelmeasurement  With up to 0.03mm accuracy, resolutionup to 0.05mm, and high system repeatability.
✦ Easy to operate  Built-in next-generation processor, noexternal cell, scan data can be directed to the work computer.FreeScan Trak canmeasure rates up to 70Hz.
✦ Dynamic tracking  Based on the dynamic optical trackingprinciple, the system can track and locate the scanning head and accuratelymeasure the three-dimensional shape of the target in real time, enablinghigh-precision 3D scanning without posting.Unlike conventionalThunderBolt-holding scanners, FreeScan Trak's innovative working mode allowsusers to focus on the scanning process and getting results, rather thanspending time on preparation sessions such as cumbersome paste mark points.

✦ Wireless technology  Without cable connection snares, optical trackers andscanners are used to quickly build a 3D scanning measurement system withprecision wireless synchronization and high-speed wireless link transmissiontechnology, enabling unmarked, unconstrained "wireless freedom" 3Dscanning.
✦ High accuracy Accuracy up to 0.020mm, high repeatability. The volume accuracywithin 15m3 is up to 0.1mm.

✦ Dynamic reference Based on the dynamic optical tracking principle, the system candynamically track and locate the stylus and obtain the 3D coordinateinformation of the pen ruby probe in real time accurately, thus achieving fastand accurate contact 3D coordinate measurement.
✦ Measured freedom and flexibility No cable connection is required between the stylus and the opticaltracker to meet the needs of a diverse field environment.

✦ Real-time detection Use the stylus meter to obtain real-time CAD inspection reports.
Application areas
Detection
First sample detection
Production quality testing
Deformation Analysis
Positioning and part coordinate alignment Large-scale workwear inspection

Reverse engineering
Modeling
Maintenance, repair and refurbishment
Mold design
  Work-packing fixture design                                                                                                         

Other applications
Dynamic tracking and positioning
Production line assembly and   commissioning                                                                                                                                                                       
 

FreeTrak

Freescan Trak

Precision

Up to 0.030 mm

Up to 0.030 mm

Volume accuracy 

(based on operating range)

15m3 ,0.1mm ​

15m3 ,0.1mm ​

Resolution

0.050 mm

0.050 mm

MeasurementRate

480,000 measurements

per second

480,000 measurements

per second

Sample size range (recommended value)

0.2–6 m

0.2–6 m

Types of networks for use

Support for wireless and wired connectivity

Support for wireless and wired connectivity

Weight

7.2kg

1.2 kg (Scanner wireless scanning module) .900g (Airmaster wireless computing platform)

Dimensions (mm)

1079L x 237W x 110H

210L x 210W x 215

Light source

Infrared LED light source

Infrared LED Light Source - 7 Exciting Crosshairs plus a Straight

Laser level

N/A

Class 2

Reference distance

3000mm

300mm

Depth of field

2000mm

250mm

Scan area

3000 x 2500mm

275 x 250 mm

Network standards

IEEE802.11n/ac, IEEE802.3ab

Output format

.stl, .asc

Operating temperature range

5–40°C

Operating humidity range

(non-condensation)

10–90%
 

FreeTrak

FreeTrak Probe

Accuracy

Up to 0.020 mm

 

Volume accuracy

15m3, 0.1mm

 

Single point repeatability

0.060mm

 

Measurement rate

Up to 70 measurements per second

 

Network standards

Support wireless and wired connection

 

Weight

7.2kg

580g

Dimensions (mm)

1079 Lx 237W x 110H

380L x 140W x 70H

Light

Infrared LED light source

N/A

Network standards

IEEE802.11n/ac, IEEE802.3ab

 

Operating temperature range

5–40°C

 

Operating humidity range

(non-condensation)

10–90%