QTS STONE is a Stone-like liquid UV-curable photosensitive resin, which is suitable for 3D molding equipment with a wavelength of 395~405nm, including DLP, LCD, and SLA desktop models. As long as normal printing is required, this material can present the texture of natural stone, which is suitable for printing stone carvings or handicrafts requiring stone texture.
. Moderate viscosity, good fluidity, easy to print.
. Fast curing speed and wide printing parameters.
. It is easy to clean, the resin does not remain on the surface of the object, and the natural luster of the stone is presented.
. The printed objects have good adhesion to the bottom plate, are easy to disassemble and will not be pulled off the platform by pulling.
. After the finished product is cured, it has excellent mechanical properties and is not easy to break.
. After the object is formed, the texture and luster are directional, comparable to natural stone carvings.
◆ Stone carvings (stone lions, Buddha statues..etc)
◆ Craft Creation
◆ Souvenirs, wall accessories
Liquid Resin Physical Properties :
Color : Grey , Dark Grey
Density : 1.13 ~ 1.2 g / cm³
Viscosity : 300 ~ 350 cps @ 25 °C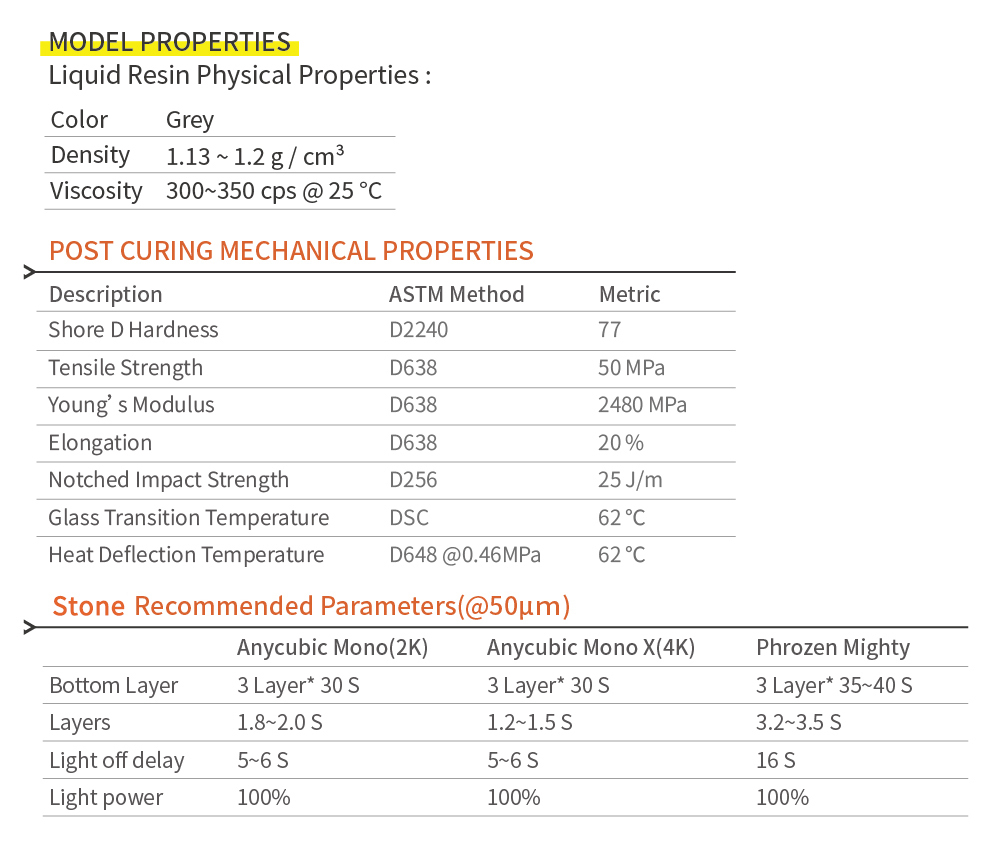 . Be sure to shake and mix well before use to avoid long-term precipitation.
. This material is a light-curing chemical, and rubber gloves must be worn for operation to avoid long-term contact with the skin to avoid allergies and itching.
. The exposure parameters of different brands and models will be different. It is recommended to print a calibration sheet for the first time to confirm whether the exposure parameters are appropriate.
. After this material is printed and formed, it is suitable for cleaning with alcohol, isopropyl alcohol or resin detergent
( Magic Wash Plus )
After this material is formed, it must be fully post-cured to achieve the best mechanical properties and dry and wear-resistant properties of the surface.
. UV post-curing in a 365~405nm light box for 10~60 minutes (depending on the color and thickness of the material, the thicker the thickness, the longer the post-curing time required). It is not enough to only use sunlight as the post-curing.
. It is recommended to use it with a UV post-curing lamp specially designed for 3D printing to achieve the best results.
. If it can be combined with heat curing at 60°C / 60 minutes, the toughness will be better.
1Kg dark opaque plastic can
Product shelf life: 12 months
This product is light sensitive material,
Avoid storing in places such as direct sunlight, high temperature and humidity.